Physical Plant
About the Michigan Tech Telecommunications Physical Plant
Michigan Tech maintains an extensive telecommunications physical plant infrastructure with a modern service delivery platform that rivals many phone or cable companies. The hill and canal bordering the Michigan Tech campus has led to a compact, urban-like plan that presents both benefits and challenges for the telecommunications system.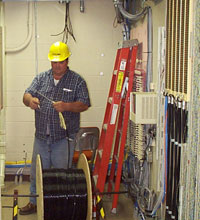 The Michigan Tech Telecommunications Department is responsible for the design, installation, and maintenance of the telecommunications physical plant and provides well-engineered solutions to address the needs of the campus community.
There are about 20 main buildings and a few small buildings on campus that require telecommunications services as well as a small number of locations off-campus. Virtually all of the campus buildings (many of which are modern, high-rise structures) have an extensive riser cabling system and are wired to meet the demands of the network and services delivered.
The entire campus system has an extensive conduit system for outside cabling, which allows the outside fiber plant to be upgraded quickly and inexpensively. Singlemode and multimode fiber is available in ample quantities between all buildings to support a multitude of services. With several miles of fiber optical cabling, the multi-service network is able to accommodate all anticipated networking needs. All current construction and renovation of buildings require category 6 cabling and many locations have been updated from the older cable schemes to meet the current standards.
Many areas of campus are also serviced by industry standard WiFi wireless technologies 802.11b or 802.11g, which allow subscribers to the services to roam from location to location with ubiquitous coverage. We also maintain several microwave radio links to facilitate transport of our network to areas unreachable by our optical plant.
Where possible, generator power is used to protect the network facilities from utility power failures and all critical networking equipment has UPS power to protect from line variations and outages. With increased demands on the networking locations, additional ventilation is installed as needed to extend the life of equipment. For most locations building air exchange is adequate to cool equipment, but several locations require independent HVAC systems.
All buildings are routinely reviewed and rated according to our current standards. Using this information, it is possible to maintain an accurate state of the network to upgrade services and infrastructure as needed.
Funding and Service Pricing Models
All additions and improvements to the telecommunication's infrastructure are funded through fee income or capital funding. Large additions to the campus telecommunications physical plant usually happen through capital building projects funded either through the State of Michigan or private donations. Private donations have also been used to fund renovations in several areas across campus.
Telcom charges time & materials for the installation of new jack locations. Campus departments use a variety of funding sources to pay for needed additions. The cost of maintaining the entire existing cable plant is covered through fees collected for network and telephone service.